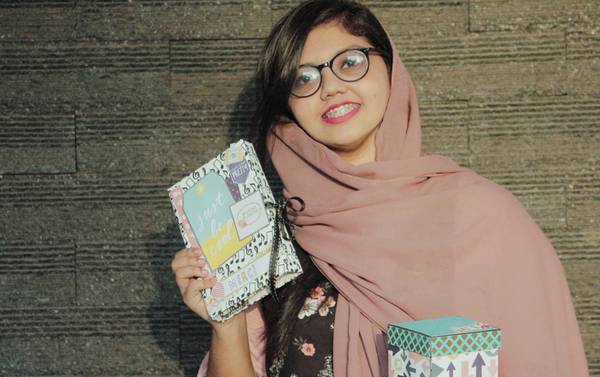 AISHA'S ARTWORLD
Meet Aisha who shows gifts are more beautiful when it's handmade with love
We live in a world where many things are mass produced. But it's wonderful that people are beginning to embrace things that are made by hand and customized for their requirements. The word "handmade" evokes feelings of warmth, comfort, and craftsmanship. Here is Aisha Thahzeen (22), a student of Accounting Software Course, selling handmade goodies and gifts. This proud owner of Aisha's Artworld – a complete solution for customized handmade gifts and other goodies says, "I love creating new things, so I would collect things like papers, cardboards, ribbons, colors and transform them into some pretty good stuff." Since childhood, Aisha was more interested in Artworks than in Academics. Even though she sells handmade gifts to her friends and relatives, it was in November 2017, she thought of doing this as a business. Born to Adv.P.V. Zainudheen & Nusrath Zainudheen, this Kerala based Craft Artist has a page in Instagram called "@aishasartworld" inching close to 4200 followers. Aisha recounts, initially, when such an idea was put across, her relatives tried hard to dissuade her from doing such works saying it was not something to be called a Profession. Back then, it was only her parents who stood by her.
Aisha's Artworld provides Handmade Cards/Crafts, Dreamcatchers, Party Props and Bridal Gotta Set (Traditional North Indian Accessories set). In this era, where hand-made products are valued more, she has a huge customer base in India and U.A.E. who gets their work done in their preference and budget! Customers who understand the labor and love she puts into her work, return to buy more from her collections. Stepping into the world of business while she was a student, she did not have any experience with business and people around. Many of her mistakes were her great teachers. She recalls her first customer who did not pay her after receiving the item and it was after that order, she started taking the whole amount prior to delivering. The presence of the internet and Social Media makes it easy for her to carry out such a business as she does not have to carry her products to some retailers to sell.
"It's a stressful and incredibly hard life, but I enjoy what I do. I never complain working till late night because after all, it showcases my skills, creativity, and passion. Even though I had a lot of difficulties and failures in the initial stage, I never wanted to let my parents down, because after it was only them who trusted me even in those darkest days of my life. That is the main force which kept me going forward.'' We need more Student Entrepreneurs to inspire our younger generation like Aisha who stepped out of her comfort zone and strived hard to embrace success!